Previous day's Tarot Reading
If you're in a different time zone or even just missed our daily tarot reading, below is the reading for the previous day.
Open your heart and mind to the spiritual guidance of tarot.
Tarot Reading for Wednesday 21st March 2018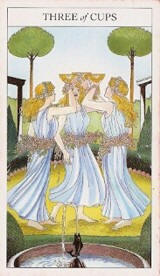 Today's reading focuses on the appearance of the Three of Cups, The Chariot, Ace of Wands and Six of Wands.
It may only be Wednesday but today still carries an immense social vibe, particularly when it comes to planning an extravagant event. The social Three of Cups is positively joined by the organisational skills of The Chariot, making it a great time to plan those social events. The creative vibe of the Ace of Wands encourages you to add your own touch of class to your event. Your own unique style of planning, decorating and even catering for a gathering of any size can bring an occasion that stays long in the memory of others. The Six of Wands shows the praise and lasting impression that your event gives. Whether it is a small scale dinner party or a large, formal wedding reception, this is your time to shine on the social and entertainment scene.