Previous day's Tarot Reading
If you're in a different time zone or even just missed our daily tarot reading, below is the reading for the previous day.
Open your heart and mind to the spiritual guidance of tarot.
Tarot Reading for Wednesday 22nd November 2017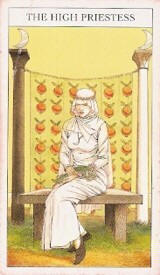 Today's reading focuses on the appearance of The High Priestess, Nine of Swords, Six of Swords and The Chariot.
Today, The High Priestess focuses on the resolution of mysteries. The Nine of Swords shows that a situation of unknown facts and confusion is causing some concern, but with the assistance of The High Priestess, the unknown can soon be revealed. The High Priestess can help you uncover those elusive facts and open up the mysterious situation with much more clarity. The Six of Swords shows you moving forward from that situation as the direction becomes clear. The Chariot shows you gaining control and having the ability to shape the circumstances that follow. Follow those instinctual feelings in your research as the facts that you need can be just around the corner.