Tarot Readings. Free Daily Tarot Readings.
Tarot cards are an ancient set of spiritual cards which offer a connection to the energy that surrounds us. By connecting to this energy we are able to gain insightful guidance from the Universe into our destiny. These tarot readings are posted by Glen Hayman, a member of Aqua Maddison Numerology. Glen was a tarot card reader for the website HoroscopesByTarot.com.au before it became part of Aqua Maddison Numerology.
Open your heart and mind to the spiritual guidance of tarot.
Tarot Reading for Thursday 14th December 2017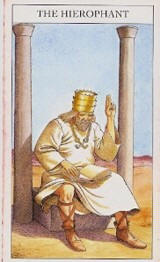 Today focuses on the appearance of The Hierophant, Ten of Cups, Knight of Cups and Nine of Cups.
This is a day to set aside material concerns and desires, and focus on those more substantial things such as the loving people who surround you. The return of The Hierophant and Ten of Cups from yesterday, and their combination with the Knight of Cups shows the value of relationships, friends and family in your life. Put aside those material desires and enjoy the company of those who are close to you. Having love and friendship in your life will be more fulfilling than material items. To only have eyes for material gains is a path way to a shallow and empty life. The Nine of Cups shows the immense pleasure that relationships, friends and family bring you. Make sure your priorities are right.